PEMETAAN KAWASAN KUMUH DAN SQUATTER AREA DI KOTA PADANG
Sri Mariya

Geografi

Rery Novio

Jurusan Geografi UNP

Ahyuni ahyuni

Jurusan Geografi UNP
Abstract
The increasing rate of population growth in urban areas has an impact on environmental imbalances, especially related to the expansion of residential areas. The purpose of this study was to identify slum areas and illegal / wild areas (squatter areas) based on indicators and parameters for each region. This type of research is descriptive quantitative research with population is all sub-districts in Padang City with total sampling. Slum area and squat mapping results in Padang city area are scattered in 7 villages in 5 sub-districts. Dadok Tunggul Hitam Koto Tangah Subdistrict Typology of slum areas Urban slums, Purus Padang Barat sub-district typology of downtown slums, Alai Parak Kopi District of North Padang typology of slums off the railroad tracks, Opposite of Palinggam typology of slums of Suburbs, Batang Arau slums typology River Suburb, Pasa Gadang Subdistrict of Padang Selatan typology of slum area of the Suburb, Sawahan Timur Padang Timur Subdistrict typology of slum area Railroad.
Downloads
Download data is not yet available.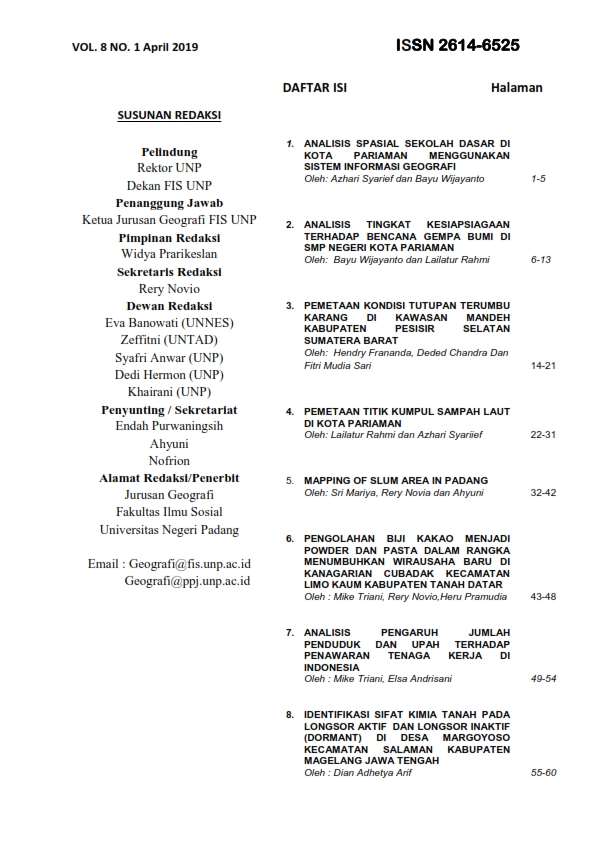 This work is licensed under a Creative Commons Attribution-NonCommercial 4.0 International License.